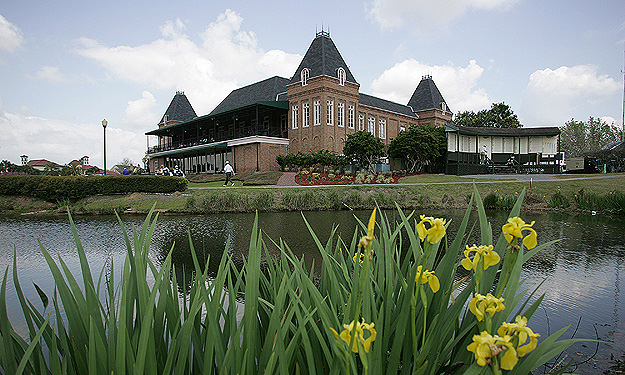 Meet the Neighbors: Broussard
Meet the Neighbors: Broussard
Founded in 1884, the city of Broussard was named after Valsin Broussard, a prominent local merchant who formed the first vigilante committee and was a direct descendant of one of the first 200 Acadians to arrive in Louisiana aboard the Santo Domingo.
Since then, it's grown from a horse-and-buggy community to a present-day industrial city with more than 300 businesses and a community that continues to grow and flourish year over year.
Today, Broussard has a number of diverse neighborhoods that combine southern hospitality and charm with easy access to interstate travel, shopping and entertainment. Here are five of our favorites:
Le Triomphe
One of two places in Louisiana to host a sanctioned P.G.A. Golf Tour event, Le Triomphe combines southern charm and elegance into one incredible, exclusive neighborhood. While the country club is a big attraction to the neighborhood, Le Triomphe itself is filled with beautiful homes and located close to highway 90, giving you easy access not only to Broussard's city amenities but also to nearby Lafayette, New Iberia and I-10.
Whether you're looking to live big or for a place to comfortably settle, Le Triomphe offers a safe neighborhood for you and your family with plenty to do within its gates.
Cypress Meadows
Sitting at the edge of both Youngsville and Broussard, Cypress Meadows offers country living and easy access to Highway 90 and Ambassador Caffery Parkway, making it an ideal neighborhood for larger families who may want to work, live and shop in multiple cities or desire an easy exit to Interstate 10.
A new neighborhood, Cypress Meadows is still undergoing construction and new lots and construction are regularly being added alongside growing walking paths, beautiful greenery, and a short trip to nearby Zoosiana; Acadiana's only zoo.
Bayou Tortue Manor
Bayou Tortue Manor is a new residential development located on Bayou Tortue Road in Broussard, just a few minutes from highway 90, Walmart, Home Depot, a wide variety of shopping and restaurant and the brand new St. Julien Park complex.
The neighborhood also has an incredibly unique feature in being near one of South Louisiana's only craft breweries; Parish Brewing. Sip some southern suds and enjoy the brewery's Saturday family days where local musicians and artisans regularly set up shop from the comfort of your backyard.
Cypress Crossing
Conveniently located off the new Ambassador Caffery extension, Cypress Crossing is a community comprised of single family homes. Being located on the new extension means the neighborhood sits at the epicenter of Broussard, Youngsville and Lafayette, giving its residents easy access to work and play in every direction.
Cypress Crossing prides itself on being perfectly pristine and offering a safe environment for adults and children alike while providing plenty of walking space and two large ponds to enjoy. It's a great neighborhood for those looking to experience a wide variety of local events without the hustle and bustle of living in the middle of a city.  
The Village at Broussard
Located right on Main Street, The Village at Broussard is one of the city's older developments, but continuously provides beautiful spaces, a number of neighborhood amenities and easy access to everything Broussard has to offer, including shopping, a nearby movie theater, plenty of restaurants, churches and schools.
Properties are deed restricted, giving the neighborhood a consistent look and feel without completely sacrificing the uniqueness that is your home. The Village at Broussard also offers six beautiful ponds, plenty of green space with benches for relaxing and a long walking path that meanders throughout the entire development and connects directly to main street, which offers a library, local restaurants and the city's community center.
As it continues to expand down Highway 90 and towards nearby Lafayette, Broussard is quickly becoming the place to be in South Louisiana. Whether you're looking to make the south your new home or just looking for greener pastures to raise a family, we can help you find the neighborhood that suits your needs. Contact us today to speak with one of our local agents and browse our listings in Broussard!
If you're thinking Broussard is a brilliant idea, learn more about it on our Community Page.