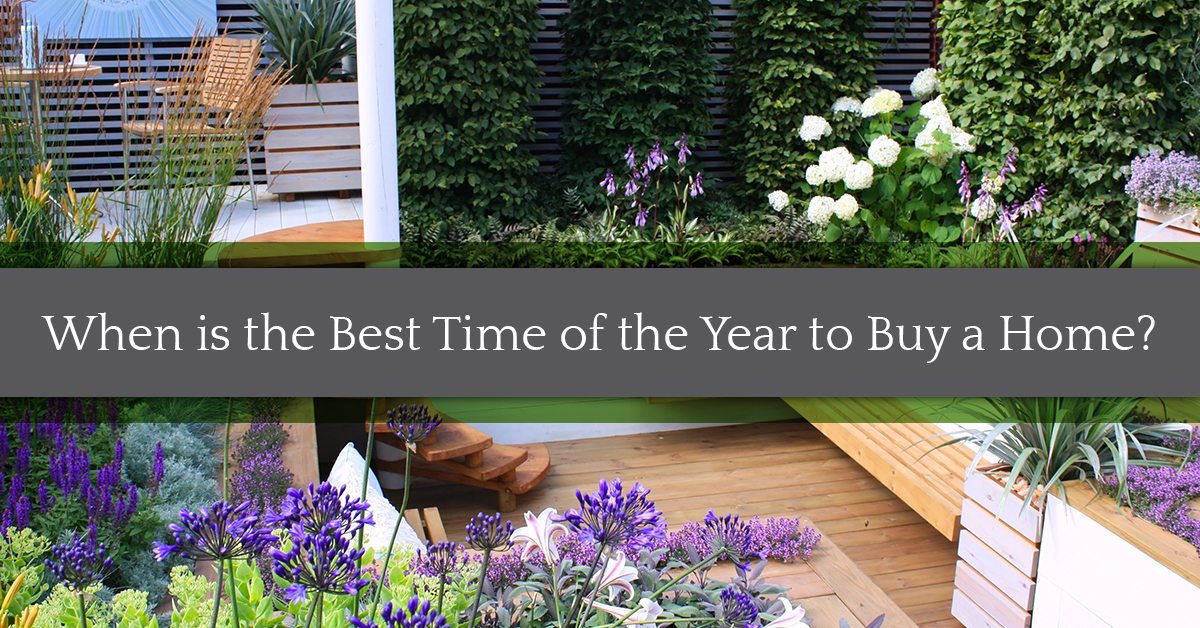 When is the Best Time of the Year to Buy a Home?
There are few transactions in our life than buying or selling a house. When you decide to become a homeowner or move from one house to another, you naturally will want to make it the best decision you can, and to do so you need to consider many things, including the timing of your big purchase.
There are many things to consider in the timing of buying or selling a house. You have to balance your personal and family needs, the demands of your job, the real estate market, your kids' school year, and many other factors. If you talk to anyone about the timing of buying a new home or selling your existing home, you will get some strong opinions about what is right and wrong.
There is some basis to the belief that there are seasons that can increase your chances of getting what you want, in either the home you are looking for or the price you are asking or willing to pay. In this week's blog, we'll look at factors that can affect the timing of your housing move and at overall trends on the seasonal real estate market.
Is Summertime the Hottest Time?
Summertime is cited by many as the time to move. This can hold true for some people and not for others. The reason often given for summer being the best time to move includes the fact that moving during the summer can be less disruptive to children who are attending school. Their academics studies are not disrupted by a move, and they have part of the summer to settle in before the next school year begins. You will notice that in the springtime, "for sale" signs pop up like spring flowers, so if you are looking to move in the summertime you'll have a wider choice of homes to choose from. So, if you don't also mind paying a bit more for a home, you can choose to move in the summertime and also get a bit more for your existing home.
Or is it?
Of course, if you don't have kids, are moving within your school district, or your job requires you to move in another season, you will have to move at that time. Another factor in the popularity of the belief that summer is the best time to move is is that moving in the summer, for most of the country means not having to move during a snowstorm or in freezing temperatures. Of course, here in Acadiana, summertime is the time for sitting in the shade and moving in the winter is actually much more pleasant.
The Fall or Winter?
For some people, fall or winter are the best times to buy a home. If your timing is not constrained by the school year or job requirements, you can move in the fall or winter. According to an article in HuffPost, There will likely be fewer houses to choose from, but the prices will be lower, following the law of supply and demand. According to an article on NerdWallet, prices call by 2.96 percent after the summer season. And of course, you won't have sweltering temperatures to battle.
Don't Act Before You are Ready
Your personal finances may be the deciding factor in your timing. According to an article in Forbes, many people focus their timing for buying a home on the mortgage rate. While it is true that mortgage rates go up and down, few of us have the expertise to foresee a coming jump or dip in the mortgage rate. This is definitely something to ask your mortgage lender or financial advisor. For many of us, though, we have to move when we have to move, and we'll have to roll the dice on the current rates. Also according to this article, it is better to save your complete down payment and avoid Private Mortgage Insurance (PMI), so they recommend that you avoid taking the plunge before you are ready with the full down payment. They recommend that you take on home buying methodically: save your money, find a lender, and then approach a Realtor. When you get to this point, we hope you will consider contacting Robbie Breaux & Team. We are proud to serve as the real estate agency of choice for the Lafayette area.
Another factor in your personal timing is if your home is ready. If you need to sell it fast, you may not have time to get it ready for the market. If you have the time to paint your home, do any necessary repairs, put in some fresh landscaping, pack up your personal items, and stage your home, you will likely be the belle of the ball and the price you get for your home will reflect your hard work and patience.
What it comes down to is balancing your needs and priorities against the realities of the real estate market. When you need help in deciding when to make a move, call the best real estate agency in Acadiana, Robbie Breaux & Team. We are based in Lafayette but service the entire Acadiana area.