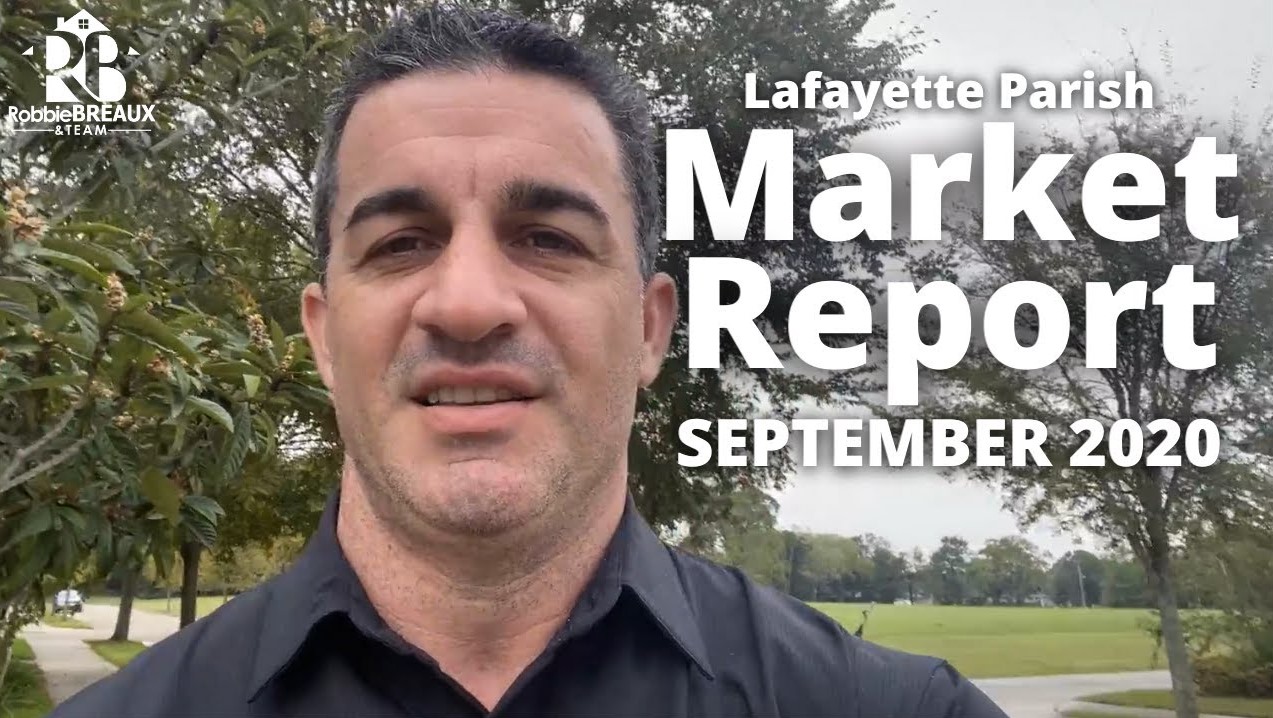 Why Is Our Market in a Unique Position?
Here is all the latest news from our Lafayette Parish real estate market.
Looking to buy a home? Click here to search for all homes.
Looking to sell your home? Click here to see how much your home is worth.
What's going on in the Lafayette Parish real estate market as we round the third quarter of 2020? Lafayette Parish experienced the second largest number of homes sold in 2020—401 homes for just over $101 million, representing a 44.5% increase over September year to date. That puts Lafayette Parish up nearly 13.4% year to date, despite COVID-19, a damaged national economy, and hurricanes. What's more is that pending sales (homes coming off the market) were up 45% for August, which represents the fifth consecutive month of 30% or higher growth in pending sales.
Now, bear in mind that not all of these homes will close due to financing, inspections, etc., but these numbers do tell us that closed home sales should exceed last year's sales through the end of 2020.
Lafayette Parish's average sales price increased by nearly 5% to $36,000, so it seems everything is peachy keen, right? Not exactly; the one thing that will slow our market down is the lack of homes coming onto the market. Lafayette Parish experienced an 8% reduction year to date in the number of homes coming onto the market, and while the sales continue to trend upward in the marketplace, the lack of sellable inventory will essentially push people to the sidelines where they'll just wait for something better. Those circumstances create a feedback loop.
What do I mean by that? Well, right now, we're hearing from buyers just like you who are waiting for the perfect home to come onto the market before they put theirs up for sale. As you can see, it's kind of like the real estate equivalent of the chicken or the egg debate. You want to wait for the perfect home, but by not listing your current one for sale, you're inadvertently withholding some other buyer's perfect home from them.
Overall, our Lafayette Parish market is thriving despite COVID-19, a damaged national economy, and hurricanes.
That said, if you absolutely have to sell your house before you buy, there's a very high probability that you'll miss out on your perfect home when it finally does come along, either because your current home won't be ready for the market or it won't be under contract yet.
Thankfully, we're here to give real-time, up-to-the-minute data on where your home stands, whether you're getting it new on the market or struggling to sell it on your own. So, the good news is that the market needs homes for sale, and with rates at historic lows—2.75% on a 30-year fixed or 2.375% on a 15-year fixed—we may never see this opportunity again. Let's put all these numbers into perspective: Last year, if you were to finance $300,000 your payment would have been $1,514. Today, the same mortgage would be $1,222 (principal and interest)—that's nearly $300 less per month for the same house!
So, you have a couple of options: You can either stay in something similar or refinance and pay it down to get out of debt faster, or you can upgrade the size and/or amenities for the same or cheaper payment that you would have paid last year. No matter how you slice it, it's a win for you. That advice comes with one little caveat, though: If for whatever reason, you're planning on buying again in one to two years from now (or at least see that as a likely scenario), then it doesn't make sense to jump into the ring. However, if you're like most people who look to make a six- to eight-year commitment to their new home, now might be the right time to step into the market—even if it's a little earlier than you'd originally planned.
If you want to see what your home equity position looks like or you're interested in upgrading your home or even looking to buy your first one, we'd love to hear from you. You can reach me on my cell phone at (337) 658-5690 or else send an email to Robbie Breaux & Team.