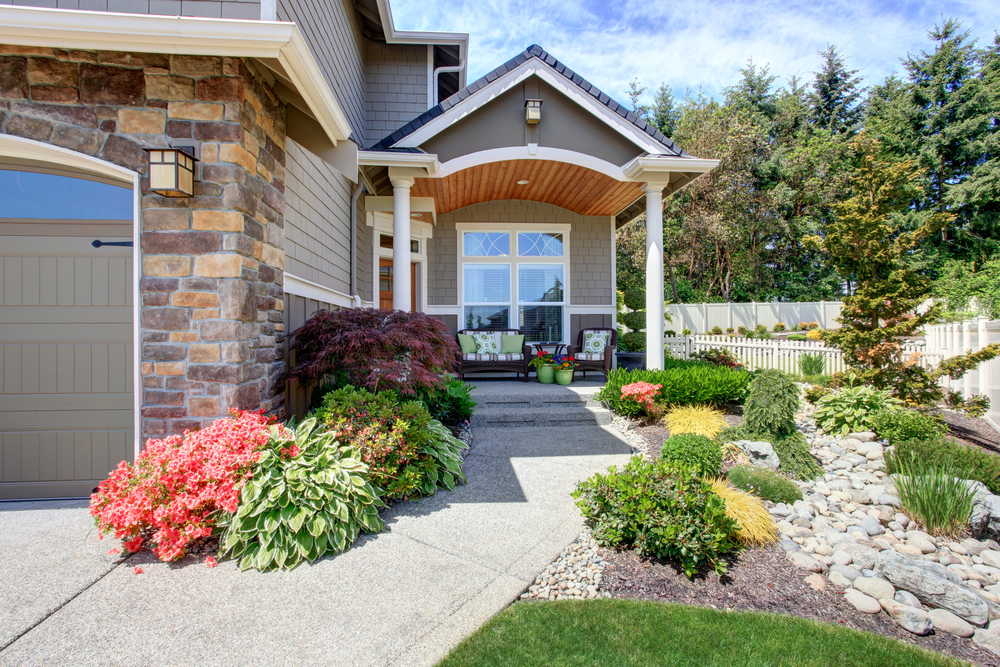 5 Ways to Spruce Up Your Home's Curb Appeal
5 Ways to Spruce Up Your Home's Curb Appeal 
Beautiful curb appeal makes a bold statement to guests and passersby and speaks volumes about the condition of the home's interior. Unfortunately, attaining curb appeal that is welcoming and endearing is often easier said than done. Even if you have managed to create a stunningly beautiful exterior, at some point, it is easy to let maintenance chores fall to the wayside. Whether you are preparing to sell your home or you simply want to restore pride of ownership and give your family a beautiful place to live, these are some relatively easy ways to elevate your home's exterior appearance.

Power Wash Hard Surfaces
If your home has a generally dingy appearance, it may be time to power wash it. Over time, dirt and debris can become embedded in the small crevices in concrete. Your walkways, driveway, patio and other surfaces may look discolored or gray rather than clean and off-white. Power washing these surfaces will easily remove the embedded dirt. While you have the power washer out, you can target the mildew that is growing on the side of the home, your fence and other hard surfaces. Remember to adjust the water pressure as needed so that the force does not cause property damage.

Wash the Roof
Most homeowners do not think about washing the roof, but this is an important aspect of home maintenance. If leaves or other debris have remained on your roof for even a short period of time or if the roof is covered with heavy foliage, mold and other elements may result in discoloration that ultimately makes the entire home look dingy. Washing the roof can be dangerous, so consider hiring a roofing company to get the job done safely.

Refresh the Front Door and Shutters
Your front door and shutters are focal points, so they must be well-maintained and stylish in order to have a positive impact on curb appeal. If your door and shutters are outdated, you may need to replace them with a modern look that erases years off of your home's age. Otherwise, consider re-painting or re-staining these features as needed. An alternative is to add a fresh coat of sealant. While you have the sealant out, pay attention to your fence. Paint, stain and sealant offer more than cosmetic benefits. They seal the wood to prevent weather-related damage.

Revive the Flowerbeds
If you are like many Louisiana homeowners, you spend ample time trying to maintain or improve your lawn's health, but your flower beds may be neglected. Adding a fresh layer of mulch is a simple and affordable way to elevate curb appeal. Before doing so, take the time to pull weeds and plant fresh annuals for a look that really pops. You can also trim the bushes and shrubs to restore their shape. For a more profound impact, consider replacing older or poorly maintained flowerbed borders.

Focus on Exterior Lighting
Exterior light fixtures add style and personality to the home during the day, and their illumination bolsters appeal at night. If your exterior features are outdated, replacing them could be a relatively affordable and easy project. Otherwise, clean the fixtures so that they look like new. In addition, take a moment to view your home from the street at night. Placing solar-powered lights around the walkways and flowerbeds is a great way to add nighttime appeal. You can also shine a few brilliant spotlights upward into your tree branches for a beautiful effect.

In addition to improving your home's exterior appearance, these tips may be essential for home security and maintenance. For the best results, revisit these tips annually or as needed to make sure your home is always looking its best.

Whether you're looking to buy or sell a home, the trusted advisers at Robbie Breaux & Team are here to help you achieve the best possible outcome. Contact us today to get in touch with an agent!