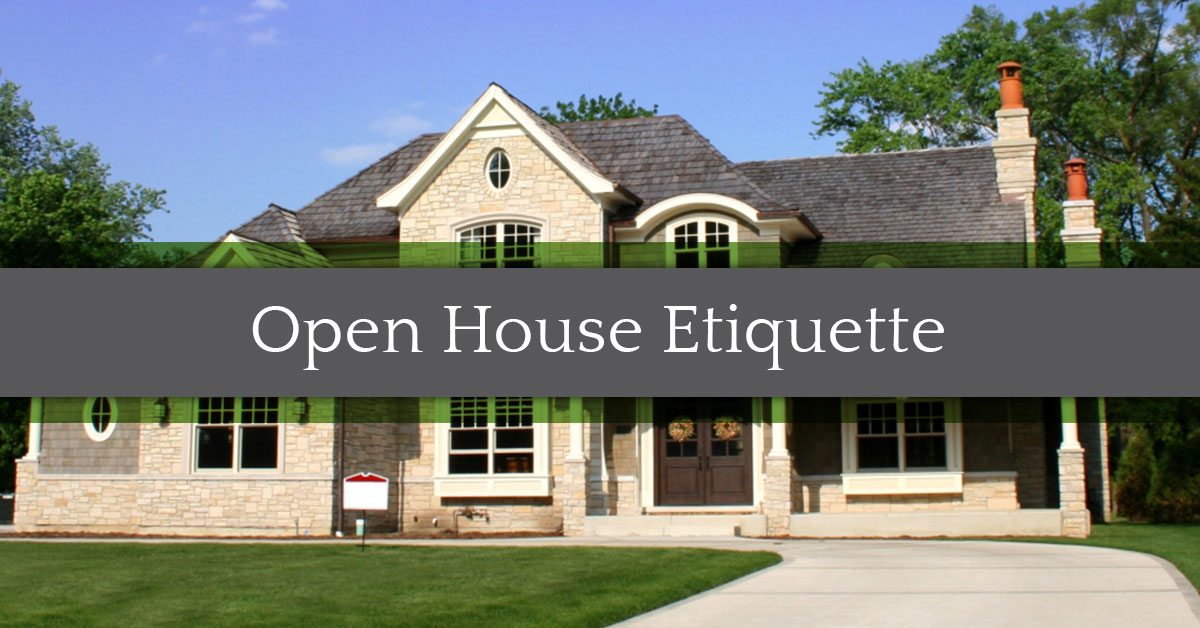 Robbie Breaux & Team is the real estate team to call when you are looking for your next home or you are thinking of selling your current home and moving to a new one. We work with people from all walks of life to find them their dream home in the Lafayette area to buy and to find the best buyers for their current homes. We have an amazing, dedicated, highly professional team of real estate agents who will go above and beyond the call of duty to get you what you want. Whether you are looking for a sprawling country home with a wrap around porch and stocked pond or a sophisticated dream of a home on a large lot but near all modern conveniences of town, Robbie Breaux & Team will find you the home and handle all the paperwork like the seasoned professionals they are. As with everything in life, there are norms of behavior and standards to uphold to be polite. We thought we'd cover a few of these to entertain and inform our readers this week.
Open House Etiquette
Regardless of if you are the owners of the home and hosting open houses or are touring house after house in search of the "one," there are some rules for you to follow to make everything runs smoothly without unknowingly stepping on anyone's toes.

Open House Tips For the Seller
Leave during the open house. Potential buyers don't like to feel overly pressured, or not free to talk about what they like and don't like about a home.  

Clean, Clean, CLEAN! A spotlessly clean home is essential; dirt will turn off a prospect faster than anything.

Do NOT burn candles or spray a lot of air freshener. It gives buyers the illusion that you are trying to cover up something that is wrong with your property.

Make arrangements for the pets. Take them with your, park them at a neighbor's, or put them in a dog day care for the day.

Lock up your valuables, jewelry, and money. The real estate agent will be on site during the open house, however, it's impossible to watch everyone all the time.

Turn on all the lights. Also, open all blinds and window treatments, the more natural lighting the better!
Tips for For Home Buyers
Have a plan. Map out the open houses you want to see, so you are not zigging and zagging across Acadiana.

Keep it business oriented. Of course, you don't want to monopolize the realtor having the open house with socializing when the house is full of people. Stay professional since this is their job and need to greet all the visitors

Ask permission before taking photos or videos. The realtor may say it's ok or ask you to access the professional photos on the website.

If you must bring children to an open house, keep a close eye on them and make sure they don't run amok.

Keep your criticisms to yourself, until you leave the home. You don't want to spoil a sale for the homeowner because you don't like the furnishing.

Look, don't touch. Remember that there is often a family still living in the home and no one wants their belongings handled by a stranger.

Take notes about things you love and don't want in your home; this can help you narrow down your choices and find your dream home. You might not realize how much you want two shower heads until you see a bathroom with a deluxe shower.

Don't get caught in the weeds. Look at the home's bones and space. Don't focus on things that are easily changed like wall color or carpet condition.

Comply with owner or realtor requests. If you are asked to remove your shoes, do so. Wearing easy-to-remove shoes for an open house tour is a good idea for this reason.
We hope these tips are helpful and give you some good ideas. Call Robbie Breaux & Team when you are looking to work with the best real estate team in Acadiana! We look forward to helping you.